When you need your saw blades sharpened, you should always leave it to the professionals, because then you can be really sure the job will be done right, and you won't need to purchase the equipment necessary for sharpening one or more types of saw blades. In the Birmingham, AL area, you should contact us at Miner Saw, Inc. for the most affordable rates, and for the most reliable professional services.
Saw Blade Sharpening in Birmingham, AL
After you've used your saws for a while, they will inevitably grow dull and then you can expect them to lose some of their cutting ability, and they could even become a hazard. When you notice that your blades are starting to grow dull with usage, bring them in to our shop at Miner Saw, Inc., and we'll restore them to their former state of sharpness and proficiency.
Carbide-Tipped Saw Blades

Our CNC Grinders have programs for many different top grind configuration to provide precise sharpening of carbide-tipped saw blades. Our sharpening service includes inspection, normal hammering and tensioning, as well as tip replacement (where needed) or complete re-tipping.

Rip – Cutoff – Panel – Glue Line – Nail Cutting – Mitre – Edger – Plywood/Laminate – DryCut Steel Non-Ferrous Metal

High-Speed Steel

We sharpen a great many high-speed steel saws, and we can make sure yours are sharpened to their normal level of precision.

Bits

In addition to saws, we also offer router bit sharpening. Our sharpening extends to straight bits, MTP bits, spiral router bits and more.

Shaper Cutters

Straight – Door Sets – Raised Panel – Edging – Beading

Planer Knives

The sharpening of high-speed steel, solid carbide, and carbide-tipped knives.

Resaw Bandsaw Blades

Bandsaw blades are another of our specialties, and we are often called on to sharpen them for clients. We can re-weld blades from 1/4″ to 1-1/4″, and we can sharpen blades in the 1″ to 1-1/2″ range.
Additional Services & Products in Birmingham, AL
We offer a number of in-demand products at our shop, including new saw blades and bits.
New Saw Blades

If your saw blade has been worn out beyond its productive life, you may simply have to purchase a new one, and we can provide you with whatever kind of new saw blade you might need.

Bits

Our bits are made by the best manufacturers in the country, so come take a look before going anywhere else.

Shaper Cutters

We also keep shaper cutters in stock at our shop in Birmingham, AL, so if you're in need of a new one, browse through our line to find what you need.

Planer Knives

To do your best wood-working, you need some high-quality tools, and our planer knives come from the best manufacturers.
Birmingham Saw Blade Sharpening FAQs
Some of the questions we are most frequently asked are listed below, but if you have a different question, make sure to call us so we can give you a prompt and courteous answer.
How Much Does Saw Blade Sharpening Cost in Birmingham, AL?

The cost of blade sharpening will depend on the number of teeth your saw has, but in general you can expect to pay between $9 and $35.

Does the Cost of Saw Blade Sharpening Differ Based on Material Type?

Yes, the material being cut will matter, that will determine which carbide tip must be used to replace broken or missing tips.

How Much Does Saw Blade Repair Cost in Birmingham, AL?

The cost of repairs will depend on what needs to be done to restore the blade to good working condition, and other factors matter as well, such as the type of saw blade it is, and whether you bring the blade to us, or we visit your location.

How Much Does it Cost to Sharpen Bits in Birmingham, AL?

It will depend on the type of router bit it is, but the price range will usually be between $3 and $25.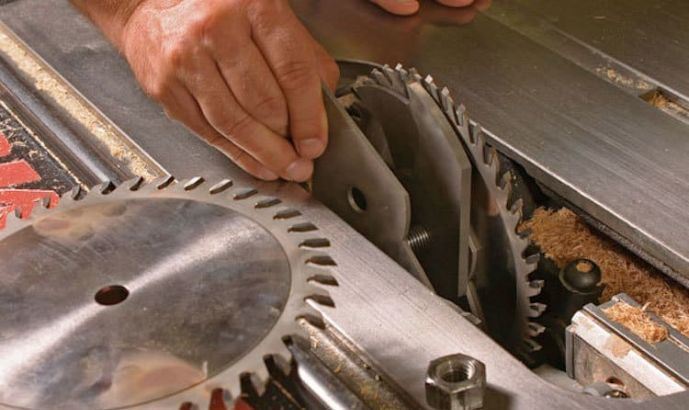 Points of Interest & Activities in Birmingham, Alabama
Whenever you're in the Birmingham, AL area, you should make a point of visiting some of the great attractions described below.
Birmingham Zoo
In addition to housing some of the most exciting and exotic animals on the planet, the Birmingham Zoo also participates in conservation programs, provides shopping and dining opportunities, and even plans birthday parties for your youngsters.
Birmingham Botanical Gardens
More than a dozen unique gardens and plant collections are featured at this venue, and you'll be dazzled by the variety and beauty on display.
Birmingham Museum of Art
Besides the many fascinating exhibits, the Museum of Art offers a Summer Camp, Art After 5, Studio School, and Art on the Rocks for participants of all ages.
McWane Science Center
The stated mission of this Center is to spark curiosity in wonder in all visitors, so that science can become a part of their lives.
Alabama Theatre
Here you'll see live shows and events as well as some classic movies that will be fun for the whole family.
Oak Mountain State Park
There are all kinds of activities available for recreation enthusiasts here, as well as some spectacular views of the natural environment.
Need a Saw Blade Sharpening in Birmingham, AL?
There's only one place to go in Birmingham, AL when you need a professional sharpening – and that's Miner Saw, Inc.