When it's time to add a new piece of equipment to your repertoire of cutting tools, come to Miner Saw, Inc. We sell tools and products from some of the most trusted manufacturers in the industry.
As a premier sharpening service, we're knowledgeable about all the brands and tools we sell, and we stock a great selection of circular saw blades, router bits, and pre-welded bandsaw blades. From lawn mowers to hedge trimmers, we'll keep all of your equipment running smoothly.
New Products & Restoration Service
Thinking about buying a new circular saw? Need some new router tips? Regardless of what line of work you're in or what your hobby is, we're proud to supply cutting tools for industrial use and for all types of craftsmen. Count on us to carry only reputable tools from name-brand manufacturers (see below).
When you buy new, trust that your tools will come backed by their original manufacturer's warranty. For restored or repaired items, we promise quality reconditioned that'll serve you reliably.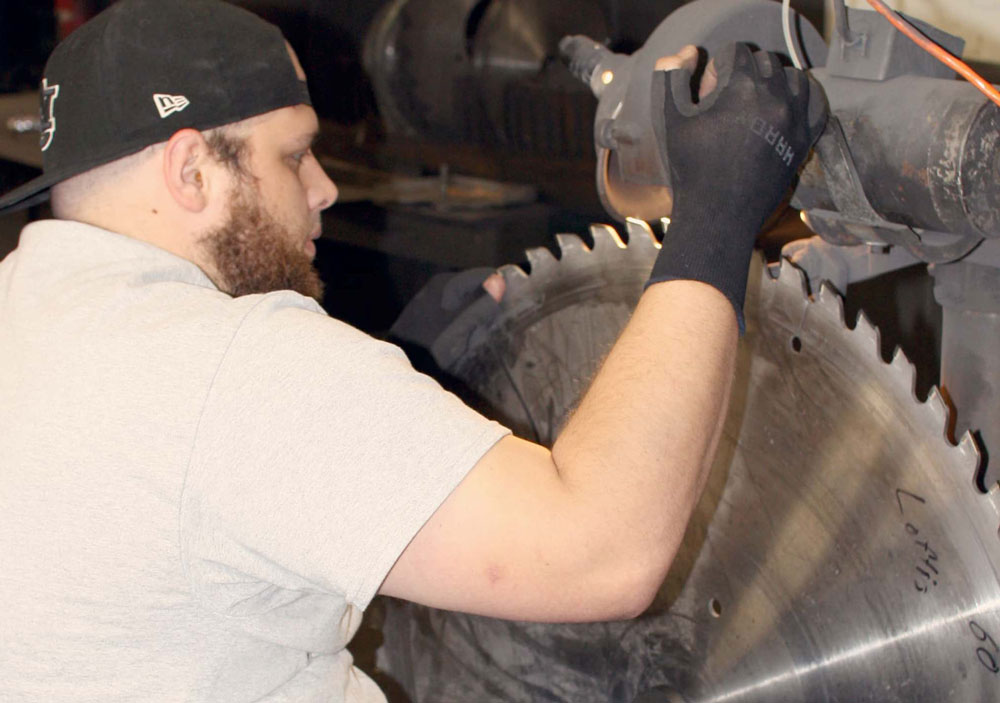 WoodMaxx Saw Blades:
We're an authorized retailer for WoodMaxx blades and take pride in being able to offer customers these affordable, yet highly reliable blades. If you're in the market for sawmill bands that will stand up to the demands of your projects, we'll gladly point you in the direction of MoodMaxx products. We have options for thin kerf mills, pallet mills, portable saw mills and more—no matter what width, thickness, profile or tooth configuration you might need. If you're looking for saw mill blades that deliver the perfect combination of quality, affordability and reliability, there are few better options than MoodMaxx blades. Just tell us what you need and we'll be glad to give you a quote!
Band Saw Blades:
Our selection of band saw blades is extensive, with options spanning all tooth configurations and sizes. We offer standard blades, as well as variable positive tooth spacing, variable tooth spacing, skip configurations and hook styles. From vertical mills to horizontal band saw cutting applications, we strive to provide you with blades that stand up to whatever you're cutting and deliver clean cuts, every time. Give us a call to learn more about the different brands we sell and to get a custom quote on band saw blades for sale.
MITER SAW BLADES:
We have a huge selection of miter saw blades for sale, in sizes from 8-12" and varying tooth styles. Our specialty is carbide tip saw blades, and we're able to provide you flat-top, alternative bevel, combination tooth and triple chip grind styles, to ensure you're ready to cut whatever your project calls for. We represent some of the most-trusted miter saw blade manufacturers and take pride in recommending the right products to our customers for their cutting applications. Best of all, we service what we sell and can sharpen miter saw blades if and when they need tip replacement, hammering or tensioning.
Brands We Source From
Our experience in sharpening, straightening and rewelding router bits and cutting equipment has given us extensive experience in working with some of the most reliable brand names on the market. To that end, we supply our customers with only products we're familiar with and trust.
Check out some of the great name brands we stand by:
A.G.E Series™ (Amana Tool®)
Alfa Tools®
Amana Tool®
The Blade MFG. Co.
European Tooling Systems, Inc.
Freeborn Tool Company, Inc.
Hud-Son Forest Equipment
Jet®
Kasco
Morse
Popular Tools™
Simonds International
Southeast Tool
Terminus™
Timberline®
W2™
Wilton
WKW
Choose us for Quality Tools
For quality carbide tip saw blades, router bits, and other tools from reputable brands in Tuscumbia, Muscle Shoals, Florence, Colbert County, or Sheffield, AL, nothing beats a trip to Miner Saw, Inc. We'll answer your questions and point you in the direction of tools and products that'll help you get your hedge trimmers, lawn mowers, and other equipment up to speed so you can get the job done right.
Stop in or contact us today at 256-383-4099 to learn more about our saw sharpening services.